Onam is undoubtedly the most spectacular festival of Kerala. One needs to experience its magnificence in person. Reading books, watching pictures or trawling net simply cannot present Onam in its entire splendor and breathtaking vistas.
Right from day one of the festival, called Atham colours begin to emanate from this ebullient festival. Making of Pookalam,the exquisite flower mat starts from this very day and continues till Thiruvonam when the Aththa Poo reaches an overwhelming size and most elegant design. It's a brilliant feeling to walk in the streets of Kerala at this time. Meticulous Pookalam adorn the courtyards of every house and its fragrance wraps the very air.
Snake Boat Race or Vallamkali is the other most astonishing sight from the panorama of Onam. Here, a large number of snake-like-long boats embellished with festoons, silk umbrellas and gold coins present a charming spectacle in the mind blowing backwaters of Alappuzha. These boats are oared by more than a hundred oarsmen in a rhythm provided by beats of drums and cymbals Energy of the boatmen passes on to thousands of spectators who come from distant places and even from far away foreign lands to watch the event in its full grandeur.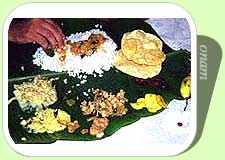 The grand meal served on Onam called Onam Sadhya gives as much delight to the sight as it does to the taste buds. Served on a soft and green banana leaf the colorful food looks even more appetizing. The meal is served in a creative way as people of Kerala have set rules of placing the different colored food on a specific space on the banana leaf. Well, there may be sound reasons, but from the point of color scheme, Onasadhya looks brilliant. It's a scene to watch (Of course one has to be a part too!) as people seat in rows on a mat laid on the floor to have the strictly vegetarian meal. Mouth waters at the thought of scrumptious payasam....doesn't it?
The album of Onam also contains outstanding pictures of procession of caparisoned elephants from Thrissur. Elephants adorned with gold plates on their forehead and umbrellas on top present a majestic sight to onlookers who gather in large number to watch the regal show.
Women dressed in their traditional gold bordered off-white mundu and neriyathu and performing the very elegant folk dance Kaikottikali is another wonderful scene from the carnival of Onam.
Well, there is lot more to Onam than word can describe. Spirit of this great carnival can only be felt. And, if experienced once...it is cherished for a lifetime.